....Fans of a certain Sci-Fi series should get the name reference.
In the grim post-apocalyptic future of 2111, one of the most steadfast forces for good is the Federal Republic of America; remnant of and heir to the traditions of the United States, they continue to battle the forces of evil that had been unleashed by the Final War twenty years prior.
Part of their strength is their powerful navy, consisting of a variety of ships crewed by brave men and women and led by stalwart captains. One such ship is the
Kestrel
-class frigate,
FNS Hawkwing
, skippered by Commander Honor S. Harrington and loaded out with two 3" guns, numerous machineguns and a salty crew, they are ready to take on any pirates or Chaos raiders that might cross their path:
click for larger image
Vital statistics (data from the 2110 edition of Jaynes Fighting Ships):
Data: Kestrel Class Frigate, Manufactured by BFG Industries in Philadelphia, PA under license from the Republic of New Jersey, Corleone Shipyards, LTD.
Launch Date: 2089
Current CO: Commander Honor S. Harrington, Federal Republic of America Navy
Armament: Two 76mm cannons, two aft-mounted BA-Industries MG-3/42 machineguns (7.62 NATO) and three bridge-wing mounted BA Industries Lewis-Lexington Heavy machineguns (.50 BMG). In addition, small arms lockers located about the ship contain various combinations of C96A semiautomatic pistols (.45 ACP), BAR Mod-2 light machineguns (7.62 NATO), M1-A rifles (7.62 NATO), M-21 Sniper Rifles (7.62 NATO), Colt-Thomson M1A1 submachineguns (.45 ACP) and TLG industries vibro-sabers.
Propulsion: Twin John Reed 12-cylinder 1500 HP bio-diesel engines with a cruising speed of about 40 Knots.
Notes: The Federal Republic of America version of this ship differs from the original Republic of New Jersey
Kestrel
class frigates in that it has the BFG Industries MK-98 Search/Track radar as opposed to the Corleone Shipyards Target Acquisition System (TAS) Mark-7, along with an added Furuno Commercial Navigation radar (for both standard navigation and deceptive tactics to fool enemy ships into thinking the frigate is a mere fishing vessel) and the PRC-99 directional HF communications array. Furthermore, the RNJ Navy's "Nebelwerfer" style aft-mounted multiple rocket launcher system is replaced by a second 3-inch/76mm cannon.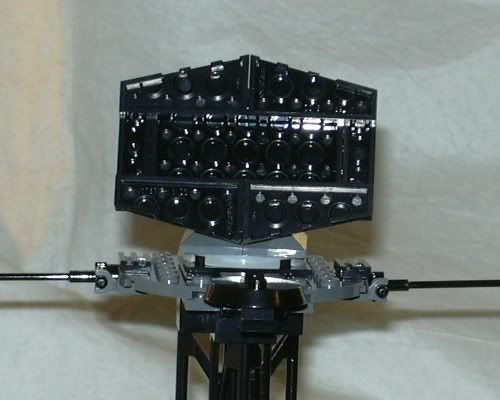 Close-up of the Radar/communications array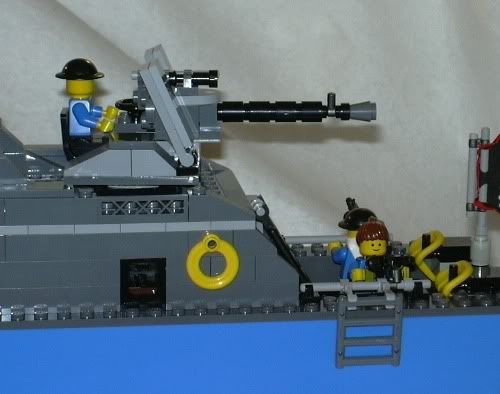 Detail of the aft armament
Detail of fwd armament (click for larger image)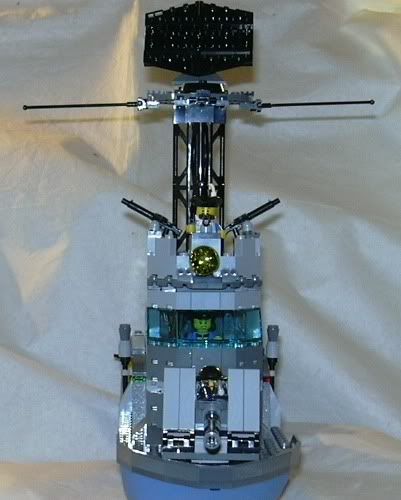 Forecastle view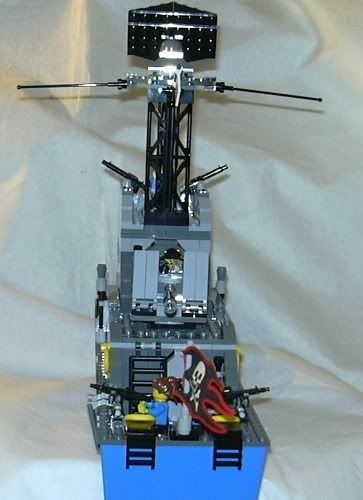 Fantail view
Bridge interior view, showing Cmdr Harrington and the Quartermaster of the Watch (I've added an additional radar console to the QMOW's watch station... how's she supposed to drive the ship in bad weather otherwise?)
Main Deck interior view showing berthing compartment and Combat Information Center....
So, what do you guys think? This MOC started life as the new Police Cruiser set (
7287 Police Boat
), and worked my way from there.... I'm thinking about doing a standard Republic of New Jersey Kestrel Class Frigate (using the same hull, but with slightly altered superstructure, and of course, different naval uniforms)....